Nova Scotia – December 2017 Event Listings
There are some great events taking place throughout the month of December 2017 – stay tuned for more, but in the meantime hit the road and take in these highlights of Nova Scotia.
AND...if you've got an event coming up - drop us a line at [email protected] with the details and we'll do our best to get it in there. For more info on submissions click here
.
Hands on History- Sherbrooke
runs until the end of September
Hands On History invites people young and old to participate in Village life by offering a "Hands On", interactive, educational and fun experience. Visit the website to learn more
.
Maple Sugar Brunch and Guided Tours at Sugar Moon Farm
-Earltown
Every Saturday and Sunday
Sugar Moon Farm serves their signature fully-licensed maple brunch.
Be sure to take a free guided tour of the maple sugar operation and plan to hike the Rogart Mountain Trail. AND Christmas at Sugar Moon is simply magic. Visit the website for more details:  www.sugarmoon.ca
.
Sunday Ceilidh
-Celtic Music Interpretive Centre, Judique 
every Sunday
For more information, go to the website
.
Saturday Ceilidh's at the Doryman -
Doryman Pub and Grill, Cheticamp
Every Saturday

Fiddle music every Saturday afternoon. For more information, call 902-224-9909
.
Family Square Dance
-West Mabou Hall
Every Saturday
Traditional square dance where the whole family is welcome. Contact Margie MacInnis for more details: 902-945-2814
.
Acadian Arts and Craft Day- West Pubnico
every week on Thursday
For traditional craft demonstrations such as artist painting, hooked rugs, braided rugs, basket weaving, wool spinning, crochet tatting, quilting and red work. To find out more, check out  the website.
Mother Goose / French for Fun Program- Petit de Grat Library
Wednesdays
With Rachel MacGillivray & Louise Migneault every Wednesday from 10am-11:30am at the Petit de Grat Library in Petit de Grat, NS, for ages 0-6.  Program includes 2 stories (English & French), a light snack, a craft, children's songs, and ends with a musical exercise game. Please contact the Petit de Grat Library at (902) 226-3534 or email [email protected] for more information.
.
Chester Gingerbread Festival
November 19 - December 19
Exquisite gingerbread houses will be on display in the village and decorated gingerbread men can be found cavorting all over Chester. Come join the fun! Click here for all the tasty details
Unicorn Theatre presents: "The Lion King Jr." - Bay Community Centre
November 24 - December 3

The Lion King, Jr. is based the award-winning1994 animated Disney movie and the long-running, highly acclaimed Broadway production. Set in in the Pridelands, a kingdom of lions in Africa, The Lion King, Jr. tells the story of Simba, a young lion who is to succeed his father, Mufasa, as King of the Pridelands. The Lion King, Jr.is an amazing show that has moments of tragedy and comedy, and well as outstanding songs in addition to the stirring "Circle of Life". They include "I Just Can't Wait to be King", "Be Prepared", "Hakuna Matata", "Can You Feel the Love Tonight?" and many more.  For more information, and ticket details go to the website
Annual Mahone Bay Father Christmas Festival
Weekends of November 24 & December 3
Larger than life Father Christmas figures wonderfully adorned, Yuletide gourmet food market, antique fair, fun filled activities for kids, demonstrations for decor and entertaining, official horse drawn transit, trees, lights, wandering minstrels, choirs and carolers. Visit the website
Get Un-Scrooged Wolfville Farmers Market- The DeWolfe Building, Wolfville
December 2

On December 2nd at the Wolfville Farmers' Market, you will have a chance to win your Christmas wish list while supporting the Wolfville Food Bank. That's right, Get Un-Scrooged is back once again! The cast of Wolfville's Gravely Ghost Walks will be roaming the Market, selling ballots for $5 (all proceeds go to the Wolfville Area Food Bank). Fill out your ballot by indicating up to 15 participating vendors that you'd like to win gifts from. A ballot will be drawn at 10am on Saturday (December 9th), and the winner will win their entire wish list! You could win up to $400 in fantastic Market gifts while helping out local families who rely on the Food Bank throughout the year.  Details here.
Christmas in the Country - Ross Farm Museum, New Ross
December 2 & 3
As part of the New Ross Christmas Festival staff at Ross Farm Museum has put together a great program for your enjoyment. Step back in time to experience Christmas in the Country. At Rose Bank Cottage sample traditional dishes from the period such as plum pudding, sugar cookies & warm spiced cider while you enjoy some of your favorite Christmas carols. There will be craft activities in the school house and farm workshop. Weather permitting there will be horse drawn rides. On Sunday Dec 3rd from 10:30AM to 3:30PM there will be a craft fair in the Learning Centre (canteen will be available).  Click here for more info.
.
Halifax Jazz Festival presents: Tales of a Charlie Brown Christmas - Spatz Theatre, Halifax
December 10

Tales of a Charlie Brown Christmas featuring Jerry Granelli, and an All New Jazz Spectacular Swing Into The Holidays!
Sunday December 10, 2017 at the Spatz Theatre, Halifax. Both shows are part of the Halifax Jazz Festival's 15th annual fundraiser for music education – thank you for your support. Tickets on sale now!  Matinee concert, Tales of a Charlie Brown Christmas, 2pm
featuring jazz legend Jerry Granelli, and the Jerry Granelli Trio. Click here for more.
Lyrics & Laughter- Louisbourg Playhouse
December 8 & 9
Join the cast of Cape Breton Lyrics & Laughter for a fun-filled evening (or afternoon) of holiday music and comedy! Lyrics & Laughter's Christmas shows have become something of a tradition over the years–it's the best way to get into the Christmas spirit! Colin Grant, Michelle Hollohan, Jason MacDonald, Eric Angus Whyte and Adam Young will be performing some of your favourite Christmas carols and lots of toe-tapping, get-up-and-dance fiddle tunes. We'll throw in some original comedy for you, too.  And, if that weren't enough: free tea and oatcakes for everyone! Come celebrate the holiday season with Jimmy, Dan Angus and the rest of the gang, and see what shenanigans they're getting up to this year! Find out more by clicking here
The Bay Chorale - A Ceremony of Carols
Saturday, December 9, 7 PM and Sunday, December 10, 2:30 PM
St. Luke's United Church, 5374 St. Margaret's Bay Road, Upper Tantallon
Get into the holiday spirit with the Bay Chorale and special guests, Tantallon Elementary School Choir! Featuring the renowned choral work "A Ceremony of Carols" by Benjamin Britten, the concert will present a variety of holiday music. Our grand finale will bring both choirs together on stage to sing in an all-ages presentation of a familiar holiday classic. Tickets are $15 for adults, $5 for children under 12, and babes in arms are free. For reservations, please contact us here
Christmas with John Gracie In Support of the Friends of Saint Margaret
Bella Rose Arts Centre, Halifax
December 15
Are you looking to catch the Holiday Spirit? A sure way to do it is to attend John Gracie's Christmas featuring a special guest appearance by the Halifax Boys Honour Choir. John has toured this beautiful Christmas Concert across the globe which included a performance at the Tree Lighting in Bryant Park in New York City. John Gracie's two Christmas CDs, Have Yourself a Merry Little Christmas and Simply Christmas have sold over 60,000 copies and will be available the evening of the concert. We promise it will be a night to treasure, so get your tickets now this will be a sell out!  Click here for more info and tickets..
A King's Christmas - "Annual magic", with guest narrator Gary Thorne
Saturday, December 16 at 4:00 p.m. – St John's Anglican Church, Lunenburg
Sunday, December 17 at 4:00 & 7:30 p.m. – Cathedral Church of All Saints, Halifax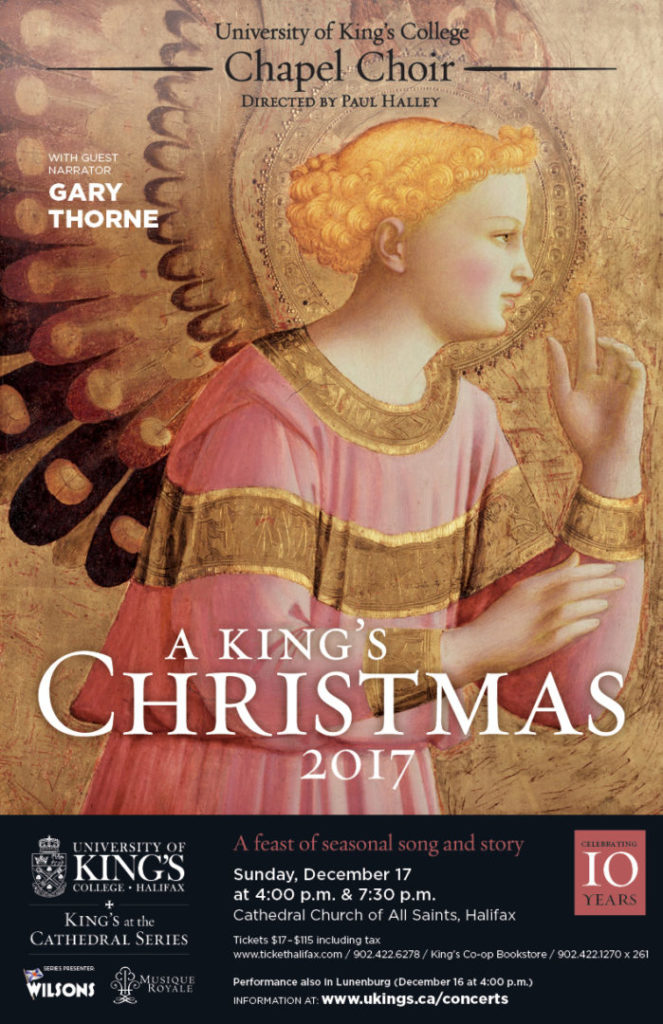 Described by the Chronicle Herald as "annual magic", this feast of seasonal song and story is celebrating its ten-year anniversary.  Directed by five-time Grammy winner Paul Halley, the music features carols from the mediaeval to the modern sung by the acclaimed University of King's College Chapel Choir.  The Rev. Dr. Gary Thorne is a priest, theologian, university professor, and activist currently serving in his final year as Chaplain and member of the teaching faculty at the University of King's College and Dalhousie University. In addition to his work with university students, Fr Thorne has served as a parish priest, a military chaplain on the ground in war-torn areas of the globe, and an advocate for the poor and marginalized. Click here for more details and tickets

Musique Royale Presents: Capella Regalis Men and Boys Choir in 'To Bethlehem with King's'
December 21
Capella Regalis Men and Boys Choir in a traditional and heart-warming evening of beautiful carols for Christmas, ancient and modern, performed by a choir of 12 boys (ages 7-14) and 12 men. The concert will also include hymns and carols for audience participation with organist Paul Halley. Click  here to learn more.
Handel's Messiah - Rebecca Cohn, Halifax
December 21 & 22
Handel's Messiah is a moving, electrifying masterpiece, and a highlight of the Christmas season for hundreds of Nova Scotians each year. Symphony Nova Scotia again performs this great work with our very own chorus master and conductor, Jeff Joudrey.* Along with four hand-picked guest soloists and the 80-voice Symphony Nova Scotia Chorus, he unfolds the drama of this performance, from recitative, to aria, to chorus, in a passionate retelling of one of the most well-known stories of our time. Click here to find out more
No Comments »
No comments yet.
Leave a comment